What a week it has been. I'm sitting here on the upper deck of a 747 flying to Taipei, but more on that later. First, let me tell you about what it's like to give up your home and travel, at least my initial thoughts.
Since touching down in San Jose from our trip to Arizona, our calendars have been PACKED. Much of it was fun stuff – a lot of "last" meals with our friends and a bit of shopping for those few items we should have picked up earlier. Some of it was annoying, like how we hadn't been as packed as we should have been for the movers or how we had to drive to San Francisco in rush hour traffic after 5 hours of moving to drop things off with my sister. But all of it was necessary to get to where we are now – and so worth it, at least so far.
So what happened to the stuff? I tried to sell, donate, and throw out as much as possible. Considering that we pretty much filled a 10×20 storage unit (although not stacked high,) we clearly kept too much. A couple of boxes went to my sister for safe keeping (nostalgic stuff I'd be heartbroken to lose if someone broke into the storage unit) and one box of "I might need this" went to our good friends. If you're wondering what stuff I decided I might need mid-trip, it's our masks and dive computers, an extra swimsuit, extra Lularoe leggings (this sounds crazy but if you know the brand, you understand,) long underwear that I love, a few pairs of shoes, and a book on the Trans-Siberian Railway.
Our important documents went to the bank safe deposit box, along with a set of car keys. The other set of car keys and an extra key to the bank safe deposit box went to our friend with the emergency box. It's a bit scary to think about, but we tried to set it up so that if somewhere along the trip we get robbed of absolutely everything, we aren't totally screwed.
If I got to do it differently … one thing I would change is procrastinating less on the packing. The storage unit is way less organized than I had hoped and there is really no way we can reasonably go in there and get more than a couple things without unpacking a lot of it. Hopefully this won't be a huge issue when we return but I'm certainly not going to worry about that now!
The other thing that maybe should have been figured out earlier is the logistics around our cars. I am not very mechanically inclined, so my planning really only included having to find a physical place to park them. It was literally yesterday – our last day in the US – when Jason brought up the fact that batteries will slowly drain to death and it's not good for the tires to be sitting in one spot for months at a time. We briefly kicked around the idea of solar powered battery charger, but it would have been more work than we were ready to take on considering the timing and they reviews on them are pretty mixed. Just like the storage unit, I'm not looking forward to dealing with this when we return, but it sounds like a new battery for each car will be in order and maybe new tires depending on how long we keep the cars once we get back.
Thank you, thank you, thank you to everyone who gave a helping hand over these past few weeks. Much of this involved being flexible with us on scheduling for all kinds of stuff. We got to see almost everyone we wanted to see and for those that we couldn't manage to connect with, know that I'll probably be on Facebook just as much as always whenever we have internet. You really can't escape me – just don't use text if you're trying to get in touch. The best ways are Whatsapp, fb messenger, and gchat/hangouts. All 3 also have voice and video if you are so inclined 😉
Now lets talk about right now – I might be sitting in the last 747 I'll fly in ever! United is phasing them out of their fleet this year and we fly mostly United on the route where you'd find a 747. I'm also sitting upstairs for the first time ever, in business class (!) after booking it using miles. We're almost an hour into the flight and so far we've been showered with 3 pillows and 2 blankets each, pajamas and slippers we get to keep, and a wine flight with warm nuts. I was a little hesitant to write about flying in business because I don't want it to come off as bragging, but using airline miles strategically is a big part of this trip.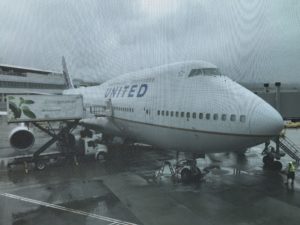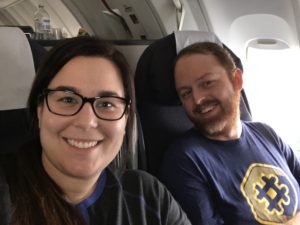 Jason and I have been saving United miles and Chase Ultimate Rewards points for years now so we have quite the cache. Many of them came from credit card bonuses, including the Chase Sapphire Reserve we got last year (100,000 bonus miles each) and the Chase Sapphire Preferred (50,000 bonus miles each.) These cards both have yearly fees, but if you travel, it's worth it. The Reserve is our principal card currently and provides 3x points for travel and restaurants, plus a $300 travel credit every year and Premiere Pass airport lounge access. It also has no foreign transaction fee. We have both converted our Sapphire Preferred cards to Chase Freedom Unlimited so as to not pay two credit card annual fees and the Freedom Unlimited gives us 1.5x points on all charges so we use it for everything other than travel and restaurants. These cards have lots of other handy benefits for travelers, so send me a chat or email if you want to talk more about it. I could go on about finding and using the right credit card for a long time 😉
So that's the earning strategy and here's the spending strategy – you generally get the best value for miles used on long haul business class tickets. That's how we wound up sitting in these great seats right now! Our plan is to try to pay cash for short flights and save our miles for the longer trips. We'll be back in the US in November at the latest and it feels good to know we'll be able to return in business class as well. Currently we are hoping to take the Trans-siberian Railway between Asia and Europe but I won't say that flying Etihad business class with a long stop over in Dubai isn't tempting.
Anyway … back to right now. We land in Taipei at about 6:30 pm Sunday (since we cross the international date line) and will take a bus and metro to our Airbnb apartment. Even though we like to fly business, we tend to take a lot of public transit when we're in cities. Jason is a bit of a transit nerd and I find it kind of fun. I think you'll learn we like the local experience while we travel. Taipei has a clean and efficient metro call the MRT, which I'm sure I'll write more about later. It's actually about to connect directly to the airport next month, but for now we'll have to take a bus.
I'll plan to write more about Taipei in a few days. I'm particularly interested to see how hard it will be to get around in a country that speaks less English than anywhere we've been. I've also noticed that I've gotten more offers to host and/or meet up via Couchsurfing from Taiwanese users than I ever have before. This is super exciting as I love meeting locals and other travelers. I can't wait to get my hair washed (I've read this is a big thing in Taiwan,) go to the hot spring, eat at night markets, and see this amazing country with a super interesting history. I cannot believe this trip came together – it felt like such a long shot when we first started talking about it.
The best part of a trip like this is there is absolutely no rush to try to see and do it all. I'm looking forward to a couple of relaxed days to start the trip after a crazy week preparing to leave. I also want to do a big packing post where I share with you guys what I brought with me so I can compare what I've kept after a few months. My carry-on bag is bulging at the seams where as Jason's has room to spare so it will be interesting to see who had the better strategy.
Thanks again for reading and I'm glad I had a few pictures to share with you for this post. More to come for sure and they only get better from here!
Comments
comments