When we arrived in Bangkok and found that outside of most metro stations there is a motorbike taxi stop, I thought it was crazy. Most women sat on the bike side-saddle and nobody was wearing helmets. Throughout the city, people on bikes would ask us if we wanted a ride – I thought they were insane. Who in their right mind would get on the back of a motorcycle driven by a stranger and just hope for the best?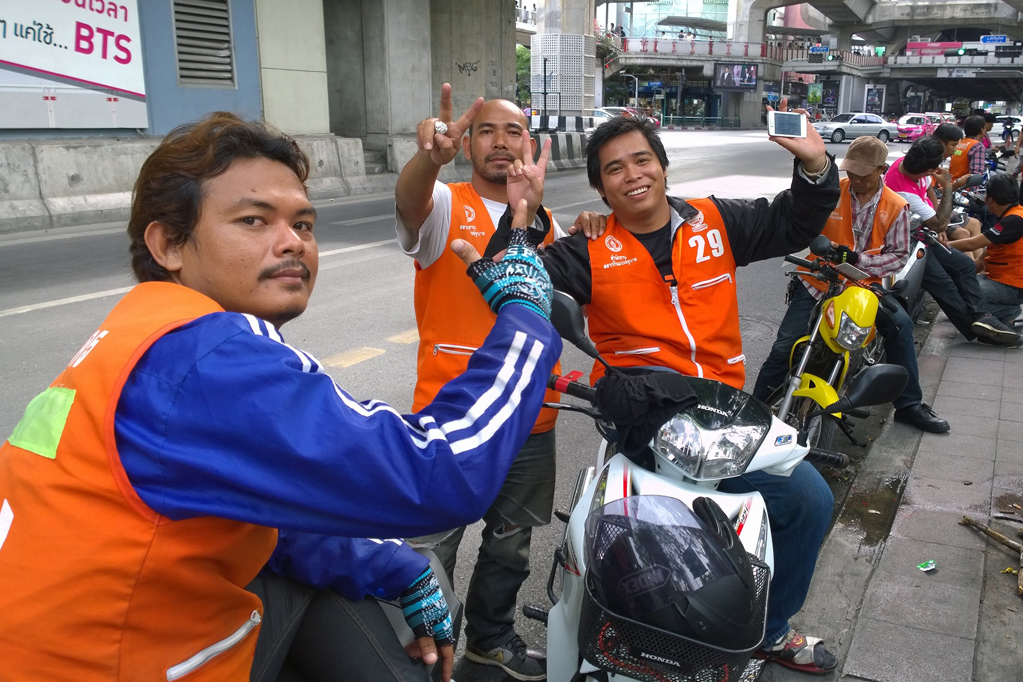 Drivers in Bangkok
A month later, we're in Ho Chi Minh City – a place with terrible public transit. Jason and I enjoy taking trains and public buses, but the systems here are very limited and unreliable. What does everyone do instead? Well, in a city of 10 million people, there are 8.5 million motorbikes.
We started by dipping our toes in – we booked an evening food tour on the backs of bikes. I had this recommended to me by a few people who are decidedly not crazy, so I found a company that could take us with just a few days notice (Back of the Bike) and made a reservation.
It was awesome! The riding on the back of the bike was easy to enjoy only a few minutes into the first ride. Our drivers were great – we never felt like we were going too fast or riding outside of the "pack" of bikes you can find on any street here. The drivers offered their shoulders to hold on to if you weren't comfortable holding on to the back (or not holding on at all!) and we closed the evening feeling like confident motorbike passengers.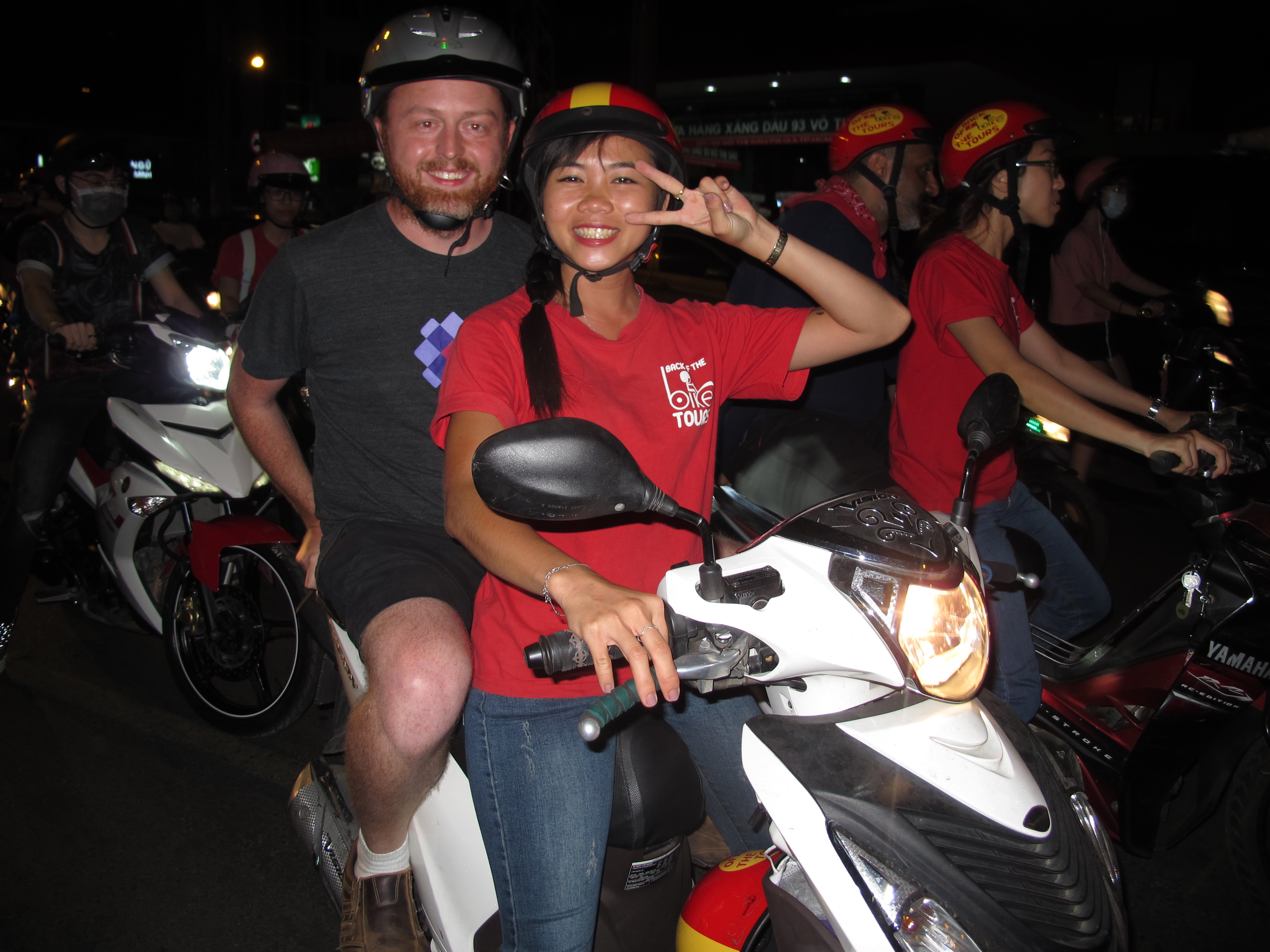 Over the new few days, we really only took GrabCar and walked. GrabCar is the best choice here because they base the rate only by distance between pick up and drop off – not the route the driver takes. This means the driver cannot go out of the way to drive up the fare like they can with Uber. We had several very successful GrabCar trips when we started to talk about GrabBike.
GrabBikes are everywhere. They wear green jackets and have green helmets. The drivers carry an extra helmet for their rider – something that we absolutely required! Motorbikes get around faster and let's be honest – it's way more fun!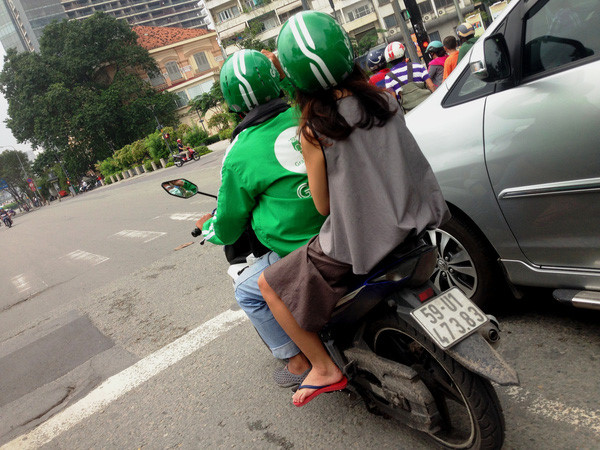 Jason and I went out for brunch this morning and then did a little bit of our own walking tour to see some of the highlights downtown. When the heat got to be too much and we knew we needed to head back to our apartment, I think we both were thinking the same thing – we were ready to take the leap. I took out my phone and requested a bike – within 3 minutes, he was there.
I approached my driver and gave him a big smile and little wave. He handed me my green helmet and it was a perfect fit. He helped me buckle it because the clip was a bit different to what I was used to. I swung my leg over the bike and hopped on. I grabbed the bar in the back of the bike and held on – we were off!
What I immediately realized is that this was a lot different than riding in a pack of tourists. My driver didn't go a fast as many of the bikes or do anything crazy – except maybe for the one time we crossed the center of the road to go around some stopped cars – but it definitely felt like the local experience. He even spoke some English, asking where I was from. I also told him it was my first time on a GrabBike and he laughed – he probably already knew that!
When we arrived back at the apartment and I hopped off, I thanked him very genuinely and just a few seconds behind me was Jason on his GrabBike – he also had a great time.
Now we're back inside recovering from the midday heat. If you're ever visiting Ho Chi Minh City, I would absolutely suggest GrabBike – but maybe take a city tour on the back of a bike first, since those drivers are used to newbies.
If you have any questions about this – let me know!