I now present to you a sampling of the food we enjoyed in Taiwan. This isn't even everything – it's only what we thought to take pictures of. I decided not to include the food we didn't really like – which was mostly outrageous stuff we tried just to be a bit crazy – like pig intestine soup and BBQ chicken butts on a stick 😂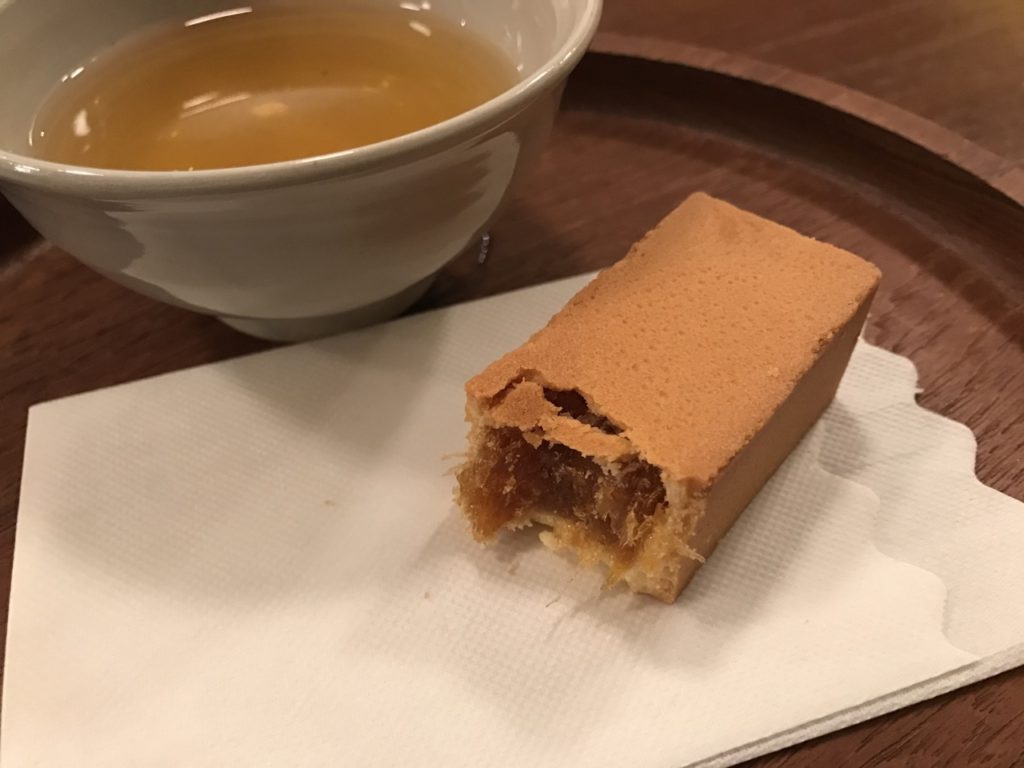 Ah yes, let's start with an easy one for everyone to like – it's a pineapple cake! The outside is buttery and firm and the inside is a very soft filling with real pineapple! When you visit, they sit you down for a free sample with a cup of tea. Sunny Hills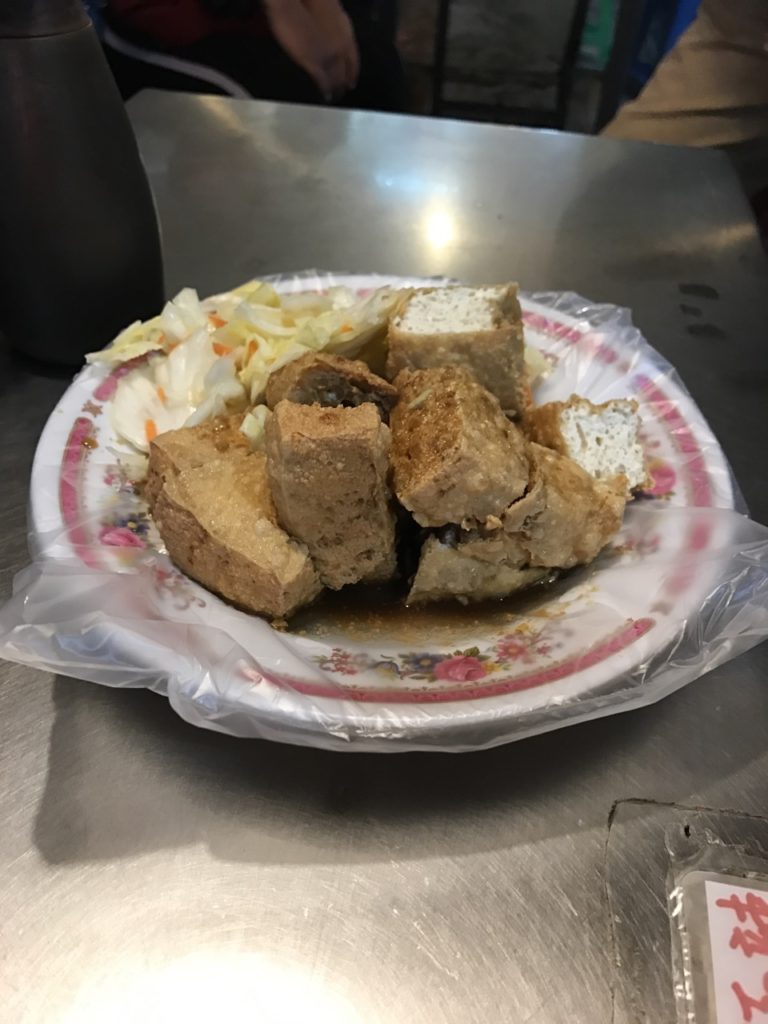 This one might be the most famous – stinky tofu! If you can manage the smell, it tastes pretty good. But then again, I'm a huge fan of most things tofu so I'm probably biased toward liking it. If you visit Taiwan, this is a must try!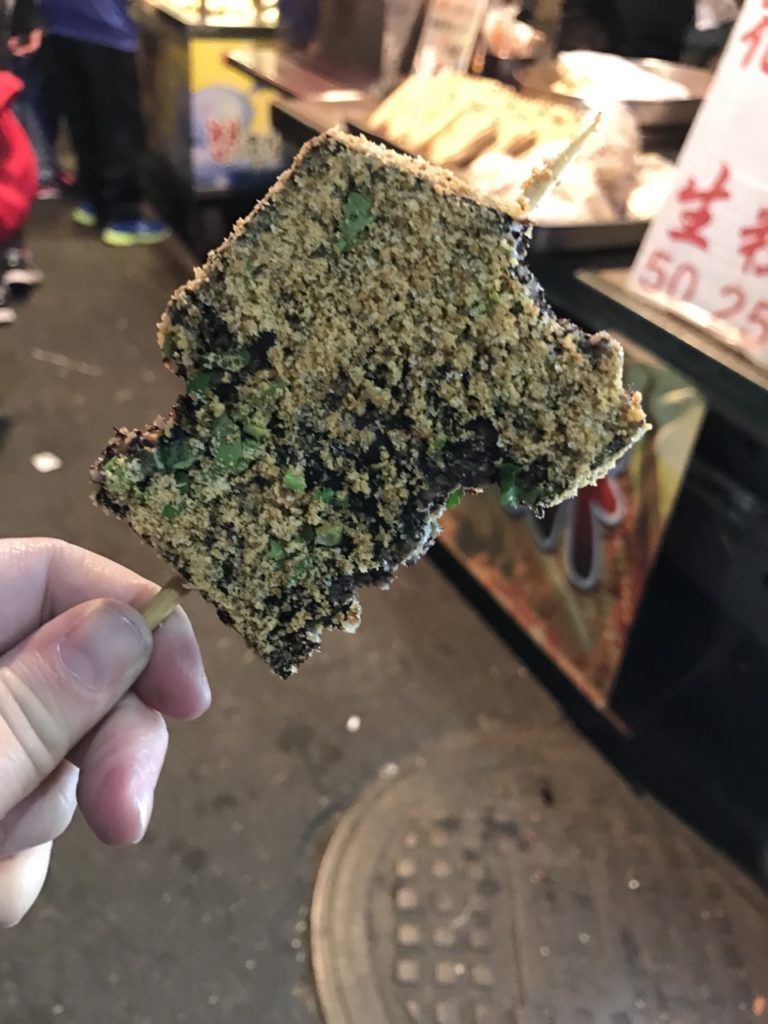 Pig blood cake – the name is deceiving as this isn't actually cake. It's sticky rice made with pig blood and covered in peanut dust. If you put out of your mind that you're actually eating blood, it's really good!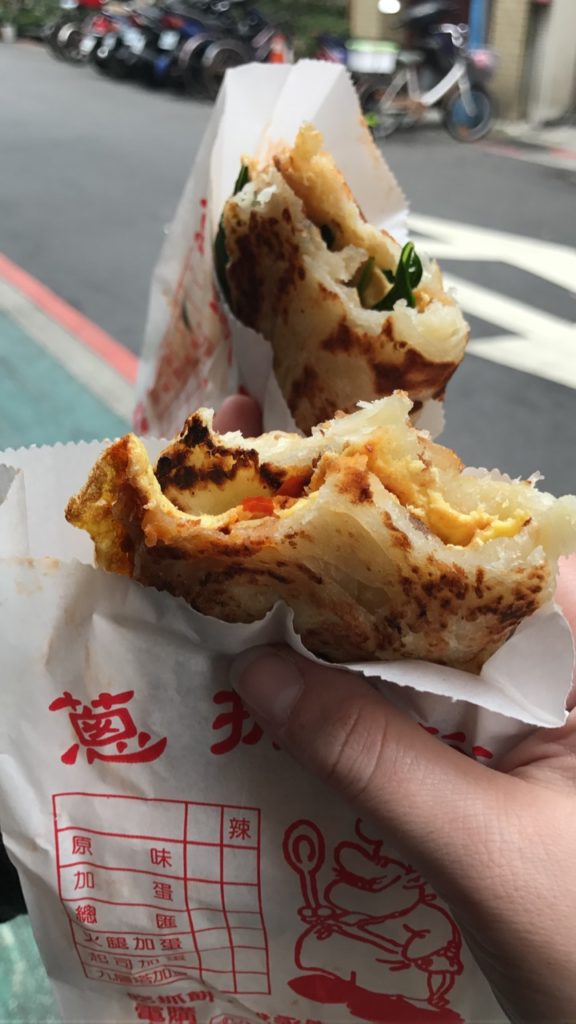 This was my all-around favorite snack of the trip. Okay, maybe my 2nd favorite, but still SUPER AMAZING. It's a savory pancake with green onions, sort of similar to a roti. Then they add fillings like egg, cheese, ham, basil, or any combination them and serve it like a taco. This cart was walking distance from our apartment and ALWAYS had a line – find it by locating the restaurant it stands in front of: Google Maps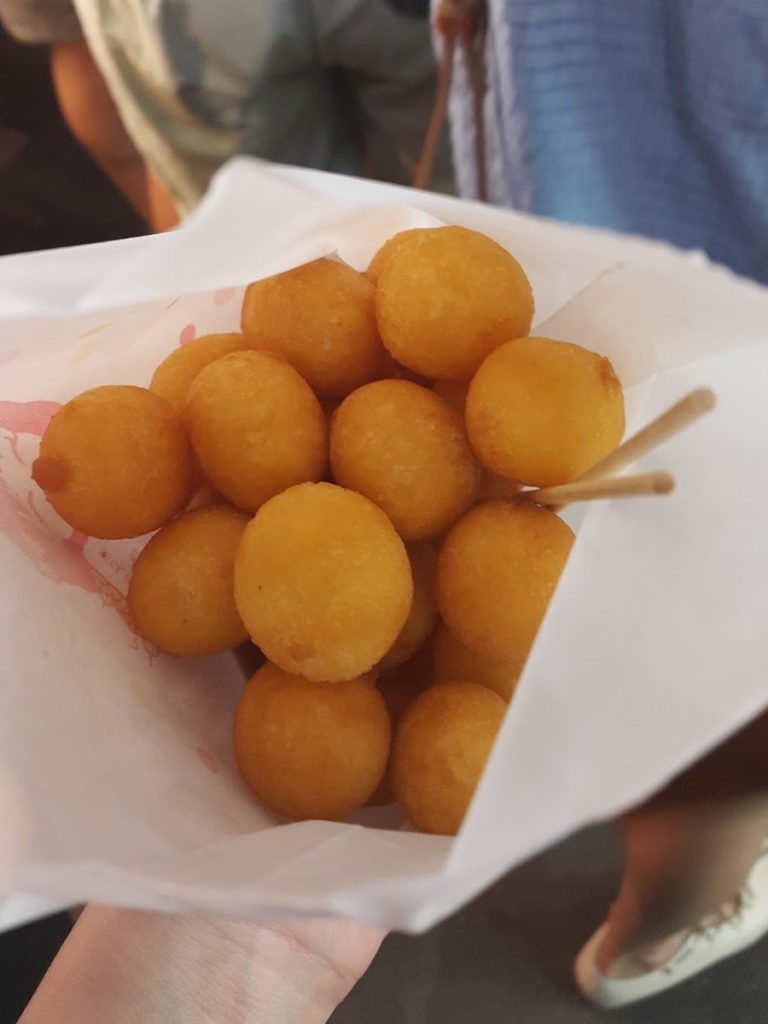 This was another top pick for me – sweet potato balls. Not much to say about these but they are super light – almost hollow inside. You can find them at most night markets. A good one to try if you are not super adventurous. Almost as much of a guaranteed win as the pineapple cake!
This was my other all-around favorite snack of the trip. We found it through a blog post on food in Hualien and they called it the Bei Gang Spring Roll – not sure if that is the name of the food or the name of the stand. The wrapper is a steamed savory crepe and you pick your protein and sauce. I got pork, Jason got the black pepper pork, and we both got the original sauce. They add several additional items inside as well. The third night we were in Hualien I had to go back and have it again! You can find it at the Zi Quiang night market and they now have English on their signboard!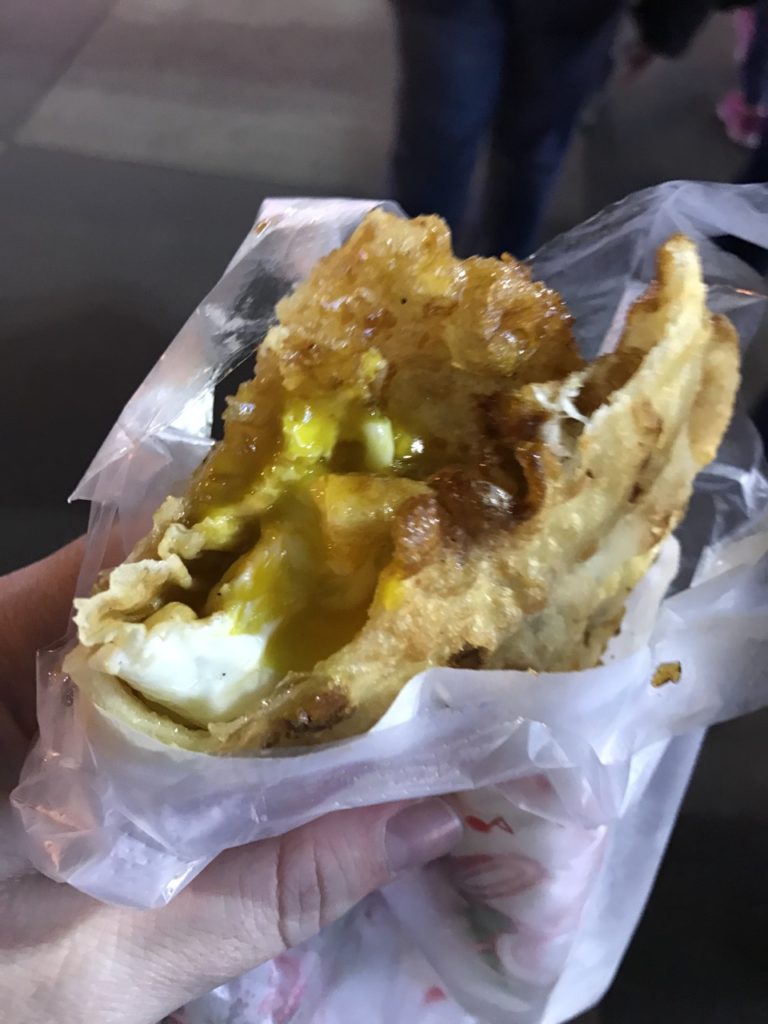 Step one – crack egg in hot oil, step two – cover with thin piece of dough, step three – flip and cook until crispy!
The best part is the egg is still runny!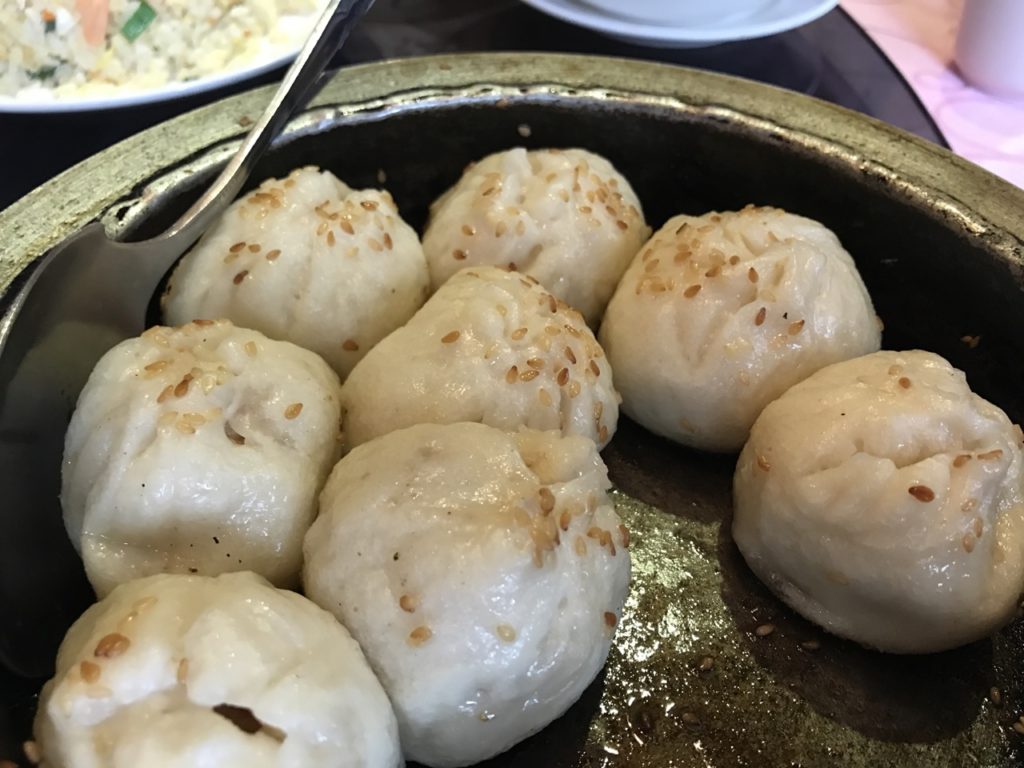 These dumplings are both pan fried and steamed at the same time. I still prefer the xiao long bao at Din Tai Fung, but these are definitely worth a try if you're in Tapei. Plus, the restaurant is literally around the corner from DTF so if you can't stand the wait, you can always tap out and visit Kao Chi! (Tripadvisor link because their website is only in Chinese!)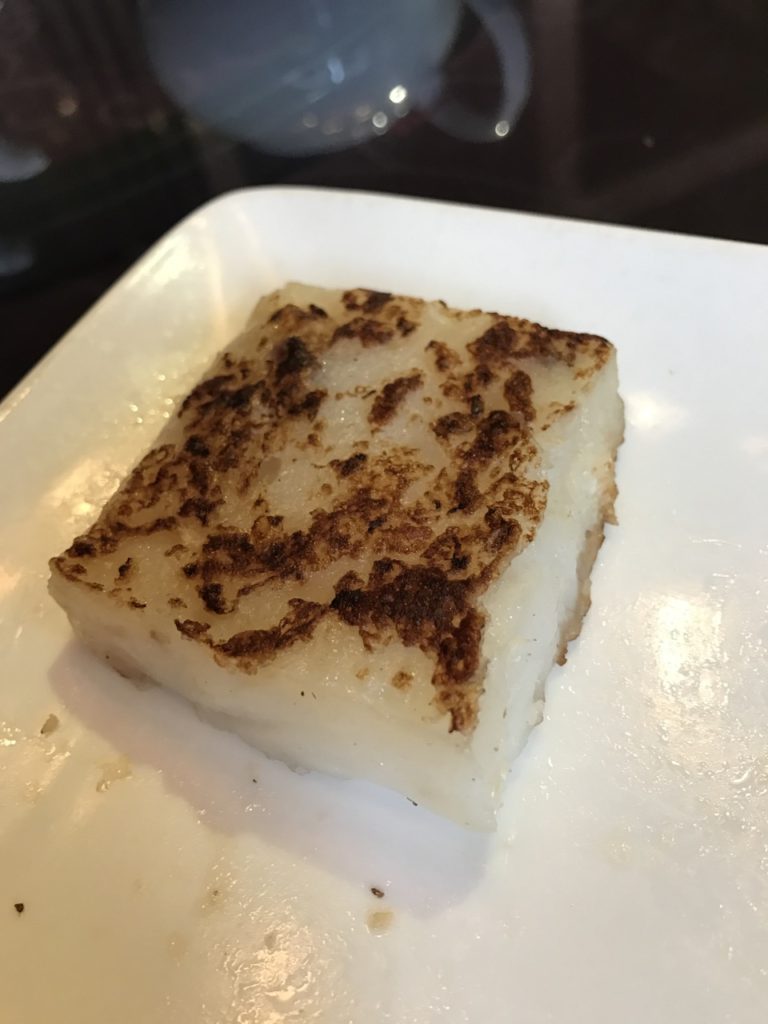 Radish cake – I wasn't a super fan of this one, but Jason was. It's like hash browns but radishes instead of potatoes.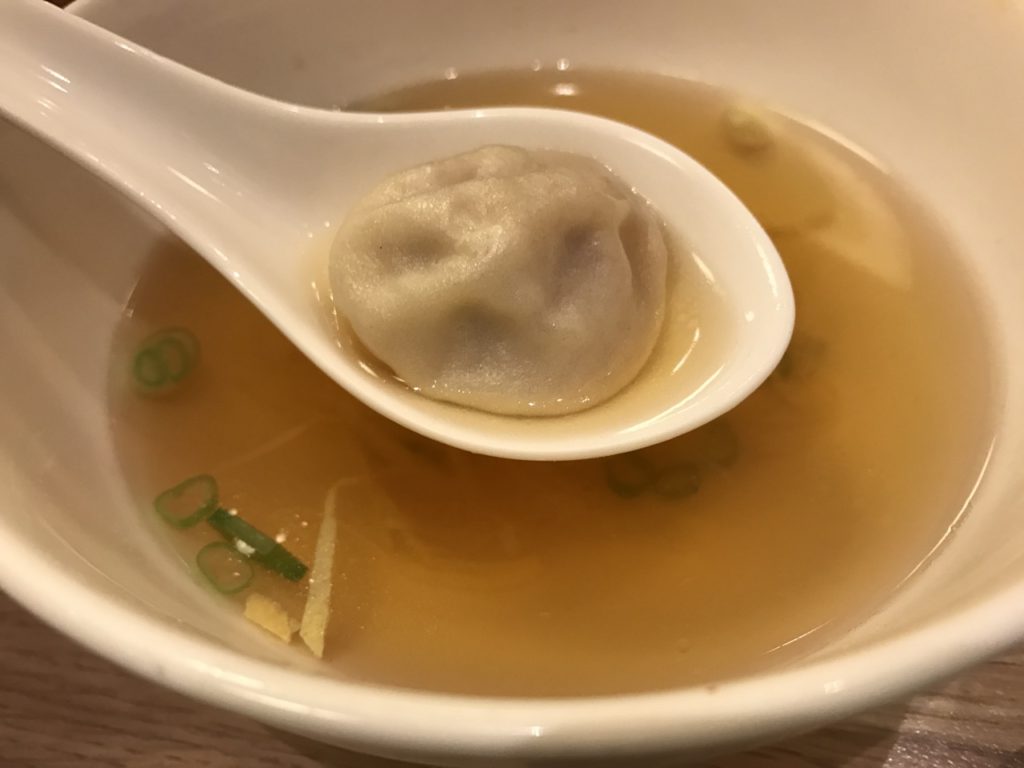 Mini xiao long bao from Din Tai Fung – they only have these on weekend mornings until they run out. Officially the restaurant doesn't open until 9:00 am, but a friend tipped us off that they'll start seating people at 8:30. Not as good as the original size (at least to me) but definitely worth a try! (Din Tai Fung)
(If you live in the San Francisco Bay Area, they have a location in Valley Fair Mall. It's the only location that takes reservations and they are usually booked up 2-3 weeks out – more info.)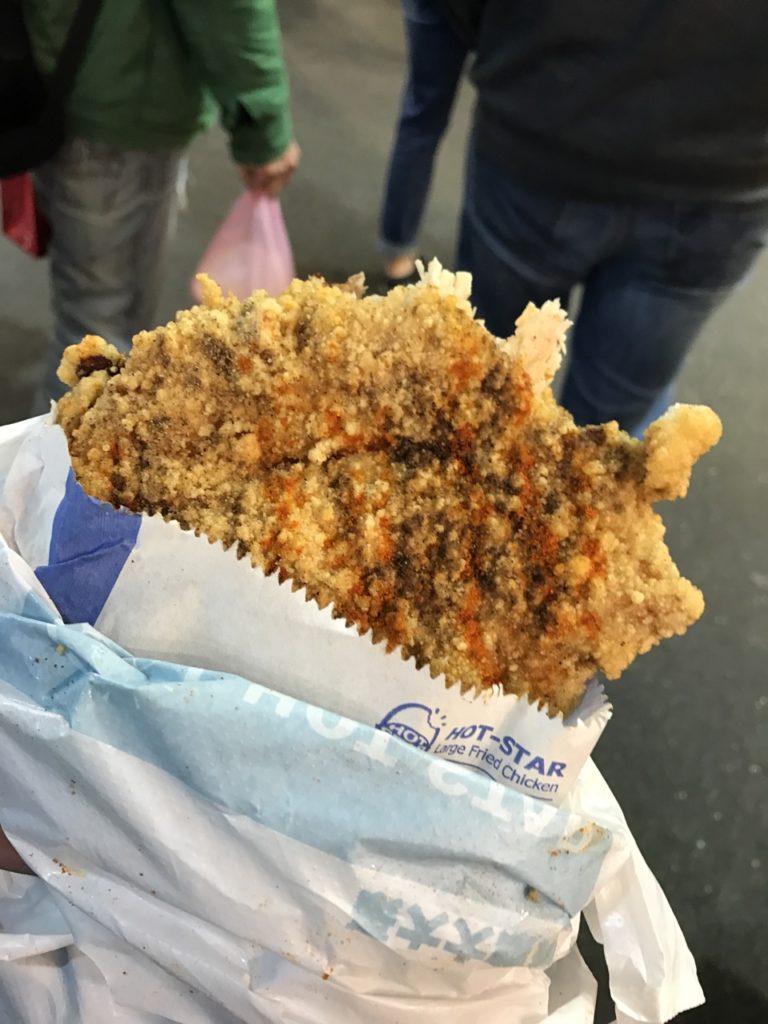 This is the famous Hot Star Fried Chicken from the Shi Lin night market. They became so popular that they have two stands here – both with constant lines. The boneless fried chicken is about the size of both hands with fingers spread. This was tasty, but I prefer my fried chicken in "popcorn" form. Hot Star Fried Chicken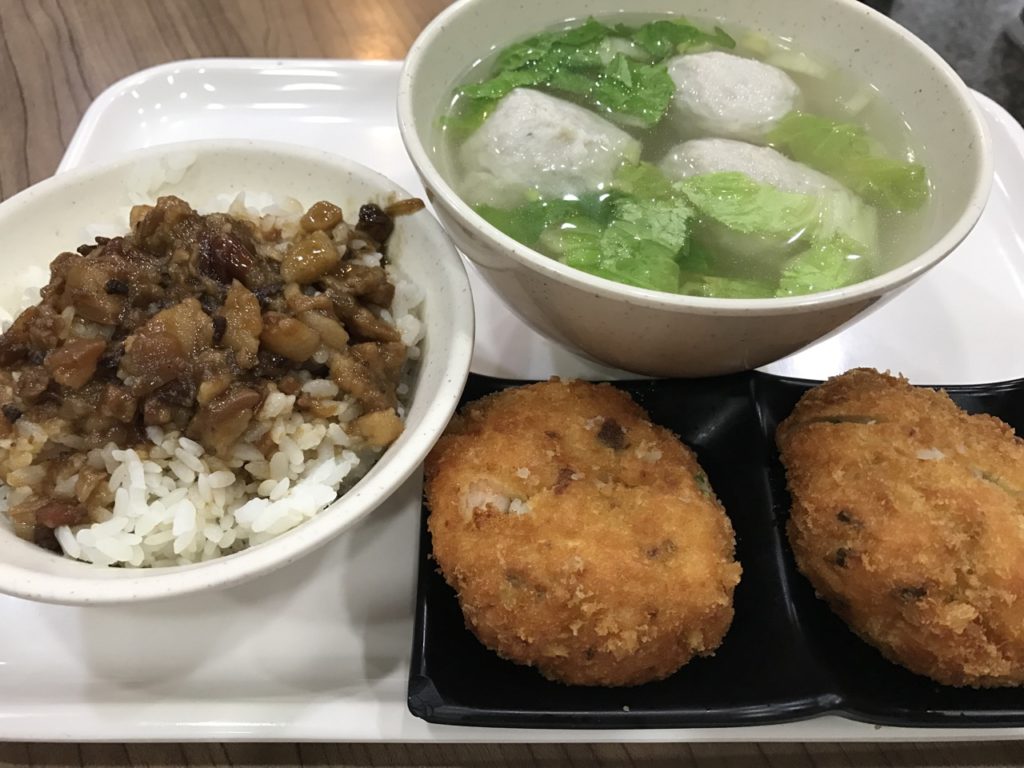 These two pictures were from an area of Tainan that has very little English, so Jason and used our time-tested theory of going to the place with the longest line. It was a pretty good meal, although we didn't finish it all. In this picture: braised pork over rice, fish ball soup, and the fried patties are shrimp cakes – we didn't order them initially, but the woman kept pointing to the picture encouragingly, so we gave in. (Tripadvisor)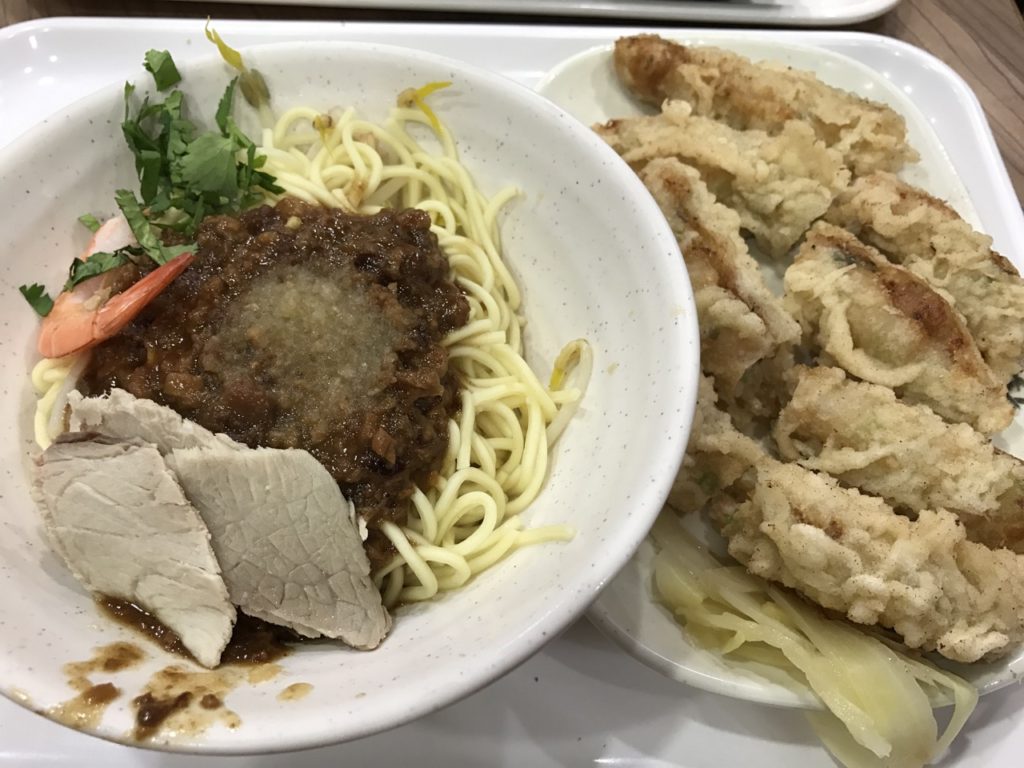 These are also from the same restaurant as the last pictures – noodles with pork and shrimp rolls. The shrimp rolls were kind of like shrimp tempura and they were my favorite of the bunch 🙂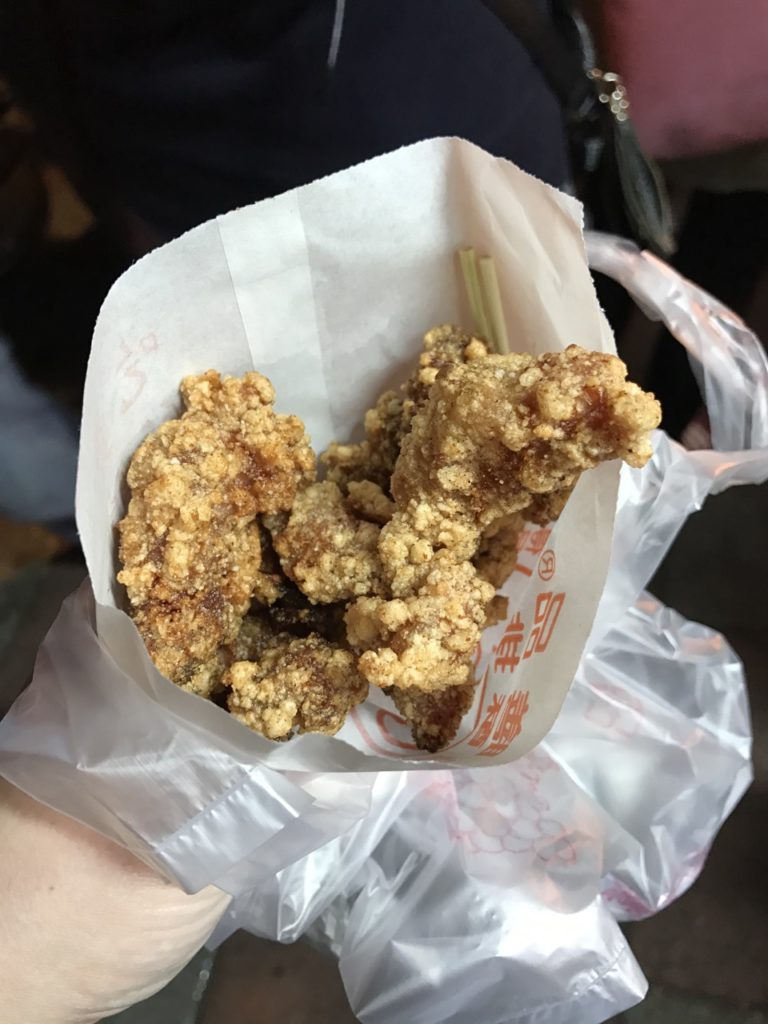 These next few pictures are from the DaDong night market in Tainan – one of the best night markets of our trip. I'm not exactly sure what I'm eating here but it's fried, it's pork, and it had the longest line in the market. It was good 🙂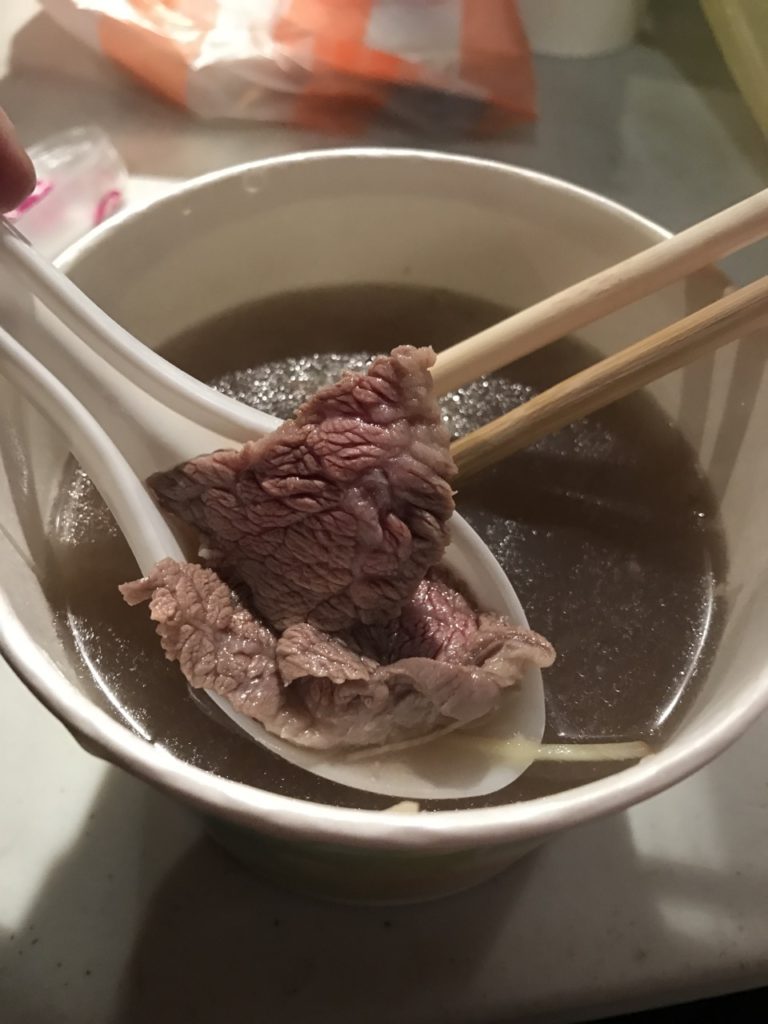 This was an unexpected big winner for me, and our Airbnb hostess told us we needed to try it in Tainan. It's called beef soup, and it's very different than the more-famous beef NOODLE soup in Taipei. It's kind of similar to Vietnamese pho in that they put raw beef in a bowl of steaming hot soup, but they added ginger, which was a total improvement in my opinion. Also – no noodles.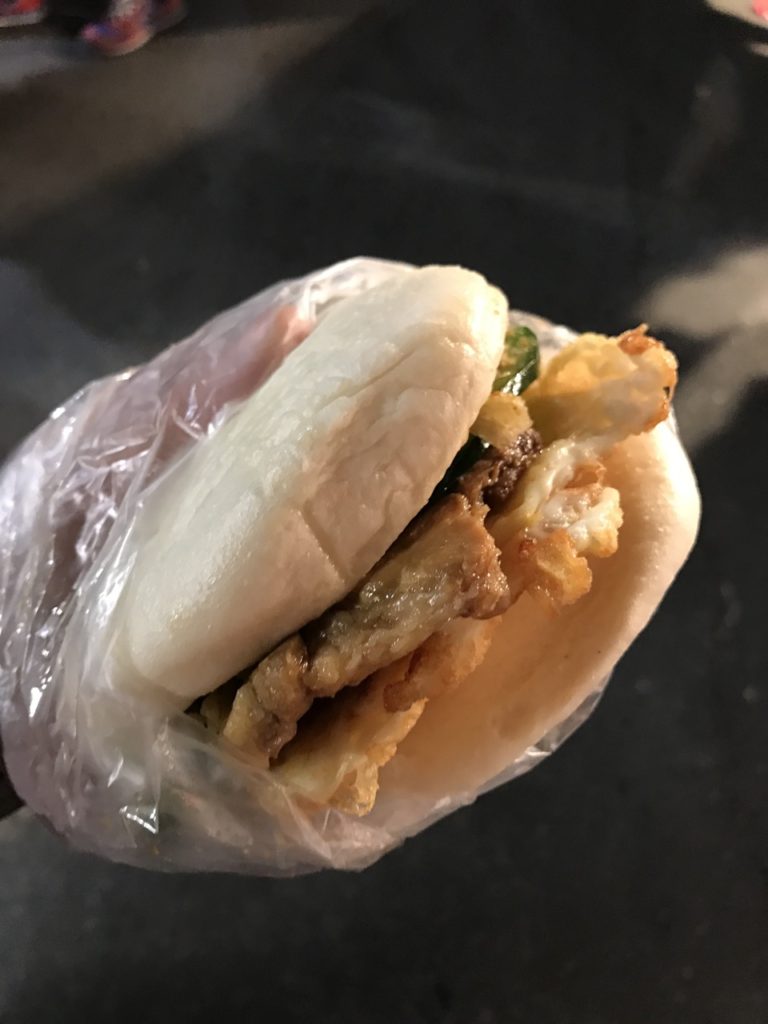 My Taiwanese friend told me I had to track this one down – it's a giant pork belly bun. It also has a fried egg, some sort of slaw, plus pickles, and a mystery sauce. Big winner!!!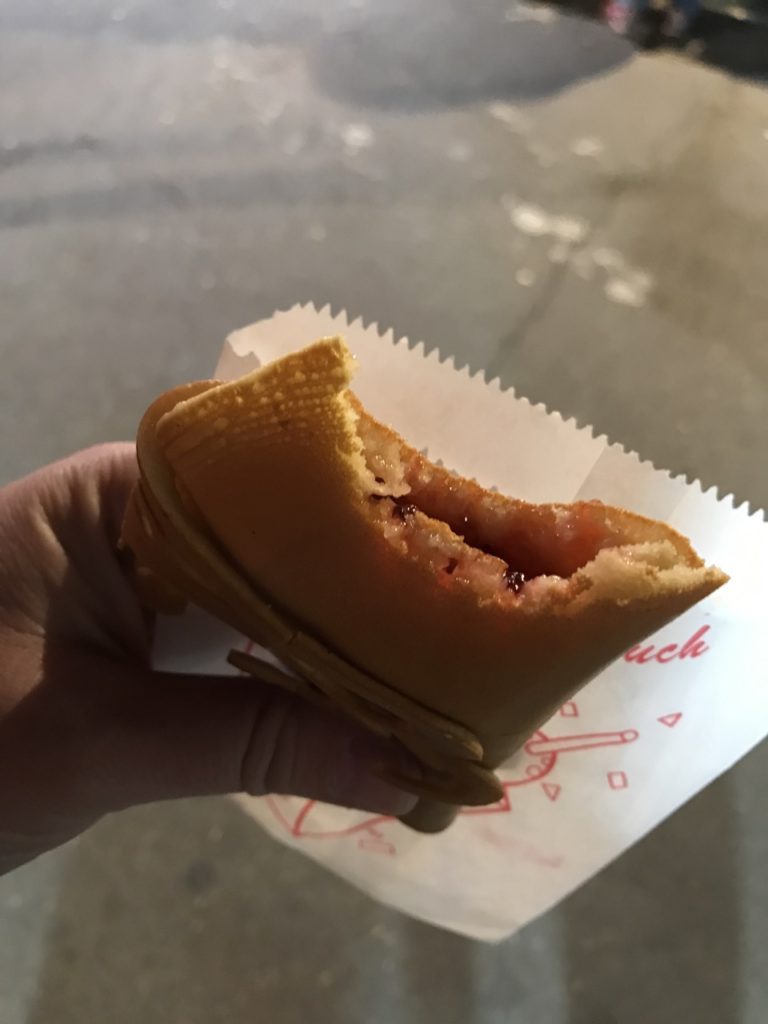 This was one of those "well how could THAT be bad" things that we passed and had to try. It's a pancake (just like my dad makes at home) filled with strawberry jelly. They had maybe 8-10 other filling options, including creme, chocolate, red bean, matcha, sesame, and peanut.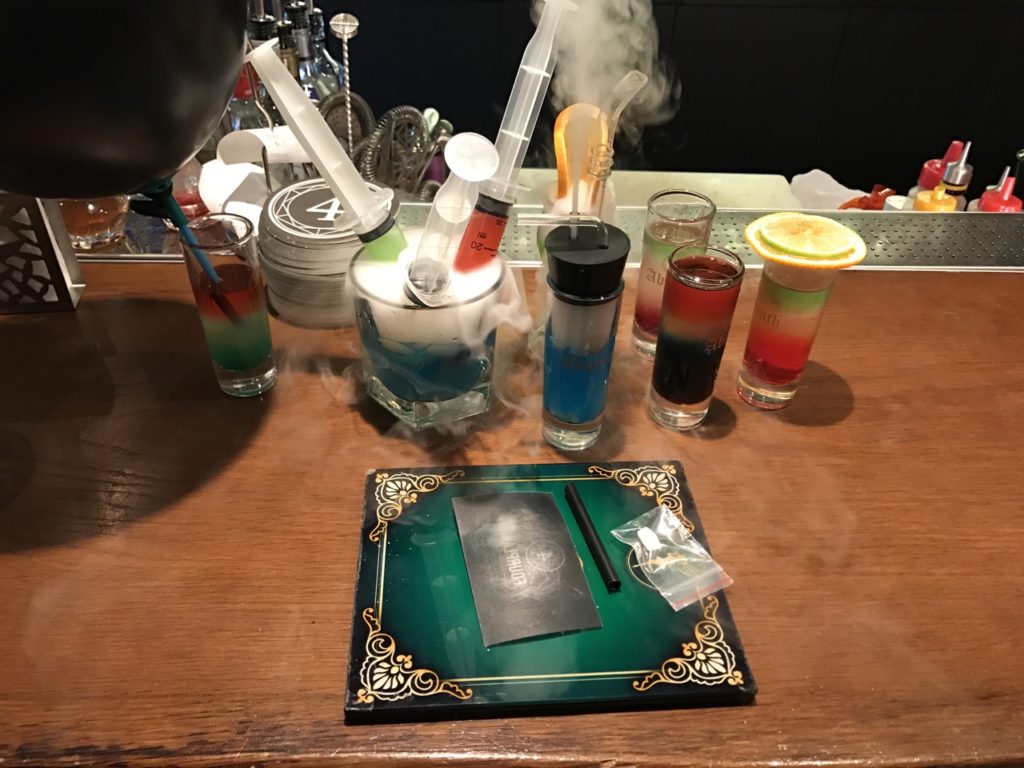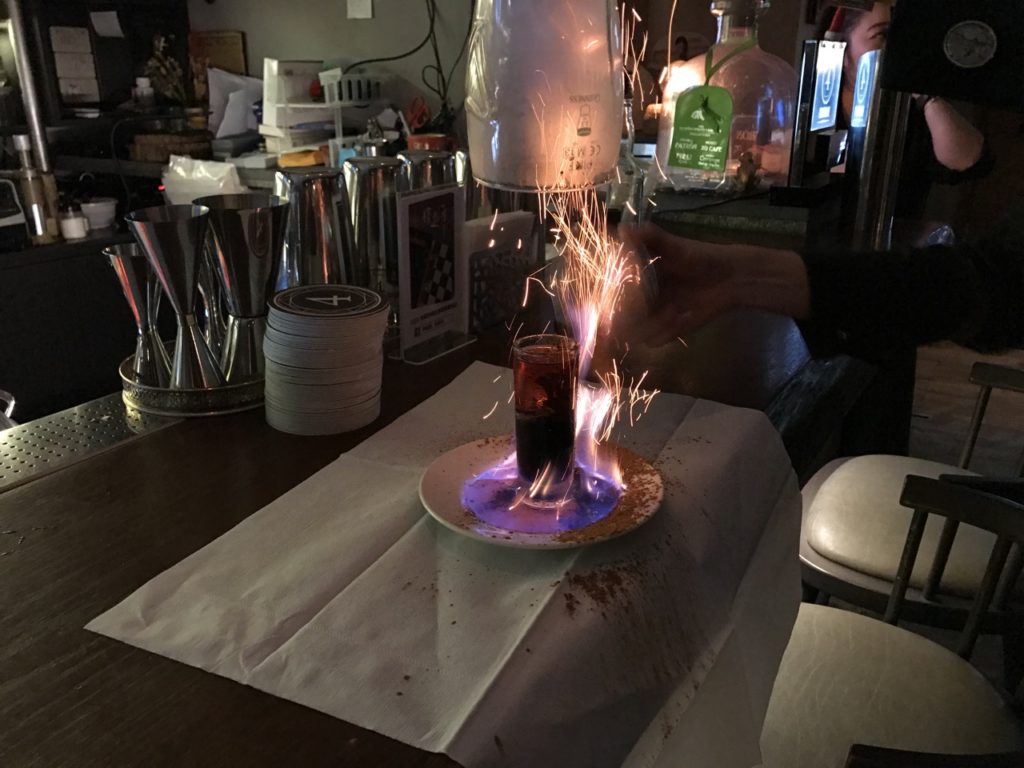 These two pictures are from a cocktail bar Jason found called Fourplay. When were first seated, I was dumbstruck by the lines of cocaine on the table next to us. Turns out it was actually sugar and you suck them up with a straw into your mouth. Is it super campy? Yes – but worth it to try it once. These 7 drinks make up what they call the drugset and there is an digital counter of how many they've served – when we ordered, it ticked up to 4,586. (Tripadvisor)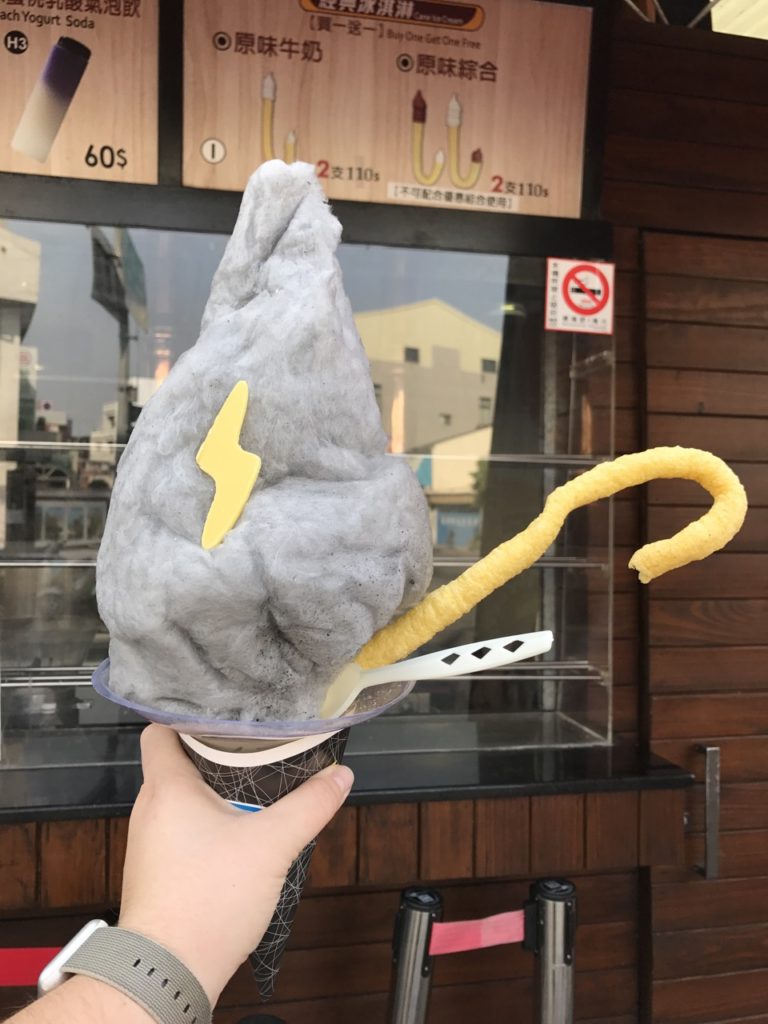 And finally, this… thing. It's a soft serve ice cream covered in cotton candy with a white chocolate lightening bolt and a cone cane. We people carrying them as we neared the stand and couldn't resist giving it a try. Honestly I enjoyed the cotton candy very much, but I'm not super big on soft serve ice cream so I took a few bites and tossed it. But it looks super cool!
Thanks for reading. This was most of the cool stuff we ate in Taiwan. If you love to try new foods and are ready to push yourself gently out of your travel comfort zone, Taiwan is an amazing destination!
Comments
comments