Today is Sunday, September 25th. We started our first trip since I launched the blog on Saturday, September 17th. Have I already failed at blogging for the first time?
Anyway, we actually arrived in Rome on Sept 18 and stayed for 4 nights. We then spent 3 nights in Florence and currently I am sitting on the patio of our room at the agristurismo La Pietriccia near Chianco Terme in Tuscany. Wow, this is a view that if I think to much about it, I start to tear up. I'll have to add a pic here later.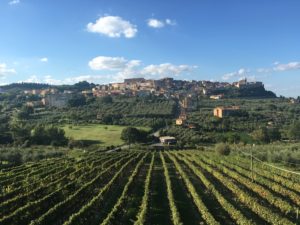 Anyway, while I try to work through exactly the format this blog will take (although I expect it to evolve over time,) I know for sure what this blog is not – it is not "today I did X, Y, and Z. As I look into my future of traveling, I know nobody wants to read that.
As I get started, I THINK this blog MIGHT be more like – what I learned while spending time in A, and maybe a couple of suggestions for you if you visit. Also, what I learn about traveling as we wander around the world and what I learn about myself.
So today I'm going to talk about some of the strategies we have used for this trip –
1. "Free" tours
2. Paid tours (group or private)
3. DIY
4. Audio tours (new to me this trip!)
"FREE" TOURS
These are somewhat controversial in the traveling community because they exist in various states of regulation and can take business away from the pricier paid tours. However, they fill a true void when 1 – you want to keep your schedule flexible, 2 – you only need a basic understanding of what you want to see, and 3 – nothing you want to see needs an appointment or entrance free. We've used two of these tours so far on this trip, one each in Rome and Florence.
Keep in mind these are not really free – you are expected tip the guide at the end. Based on the quality of the tour (the skills/passion of the guide and size of the group mostly) we tip anywhere fro $5-10 per person per hour. Some you need to register for online because they limit the size of the group and some you just show up at the meeting place for. Some of the guides are fantastic and some are barely okay. Every now and then you get too terrible of a guide or too big of a group and you just find yourself wandering off – but that's what you get with a free tour – you pay what the value of the tour is to you personally.
PAID TOURS
We also took 2 paid tours so far – one group and one private. Our group tour was of the Coliseum (all 4 levels,) Palatine Hill, and the Roman form. We were a group of 12 and it took 3.5 hours. The cost? $100 each ($30 per person per hour) – but the guide was fabulous (I guess I'll add the information at the bottom of the page,) it included the tickets costs, and we we saw a few very limited areas, like the underground and 4th level of the Coliseum.
Our tour in Pompeii was private. The group tours were all full-day bus tours from Rome and very pricy. Instead, we took the high speed Trenitalia train from Rome and then the tram from Naples, and got a much better experience at the site. We then continued on to Sorrento and had lunch on our own before taking in the beautiful coast views. Cost of the tour? $155 for 2.5 hours ($15 per hour, per person)
DIY (DO IT YOURSELF)
The longer we have in a location, the more DIY we do. Since we're moving around every 3-4 nights on this trip, there has been less DIY than usual, but it's definitely there. We did the Vatican Museum, Sistine Chapel, and St. Peter's Basilica on our own, since I've already been to all of them and Jason and his mom aren't super into art (although we did buy timed tickets to avoid the line.) We also did San Gimignano on our town today because we didn't want to have to stick to the schedule and were really just using it as an awesome rest & relax stop on the drive down here from Florence (although we did climb the town for the stunning views.) The next 2 days in Tuscany are all on own, with 3 wine tours/tastings scheduled.
AUDIO TOURS
From a suggestion from friends (Genni & Tim!) I downloaded the Rick Steeves audio tour app (it's FREE) and did his audio tour through the Ufizi art museum in Florence yesterday. Let me tell you – it was surprisingly good! He really picked our the highlights (only suggesting about 2/3rds of the rooms) and his commentary was interesting and not too verbose. I would definitely try this again in the future – maybe in Venice?
Finally – stand outs so far? You can't miss the standard must sees of Rome and Florence, but I'll list my favorites here in case your planning your trip –
ROME – Coliseum, Palantine Hill (with the new overlook, opened in 2011 or so), Roman Forum, Vatican Museum & St. Peter's Bascilica, Spanish Steps & the surrounding neighborhood for shopping and eating.
POMPEII – this can be done as a long day trip from Rome, but is still my very favorite ancient ruin site.
FLORENCE – The Accademia (with the David,) the Uffizi (with the Birth of Venus & many others,) the Duomo, shopping & eating all over the city
and more to come as this trip continues. We have two weeks left, visiting Tuscany, Venice, Lake Como, and Milan, and I would like to write about the types of places we stay and why.
Ciao <3